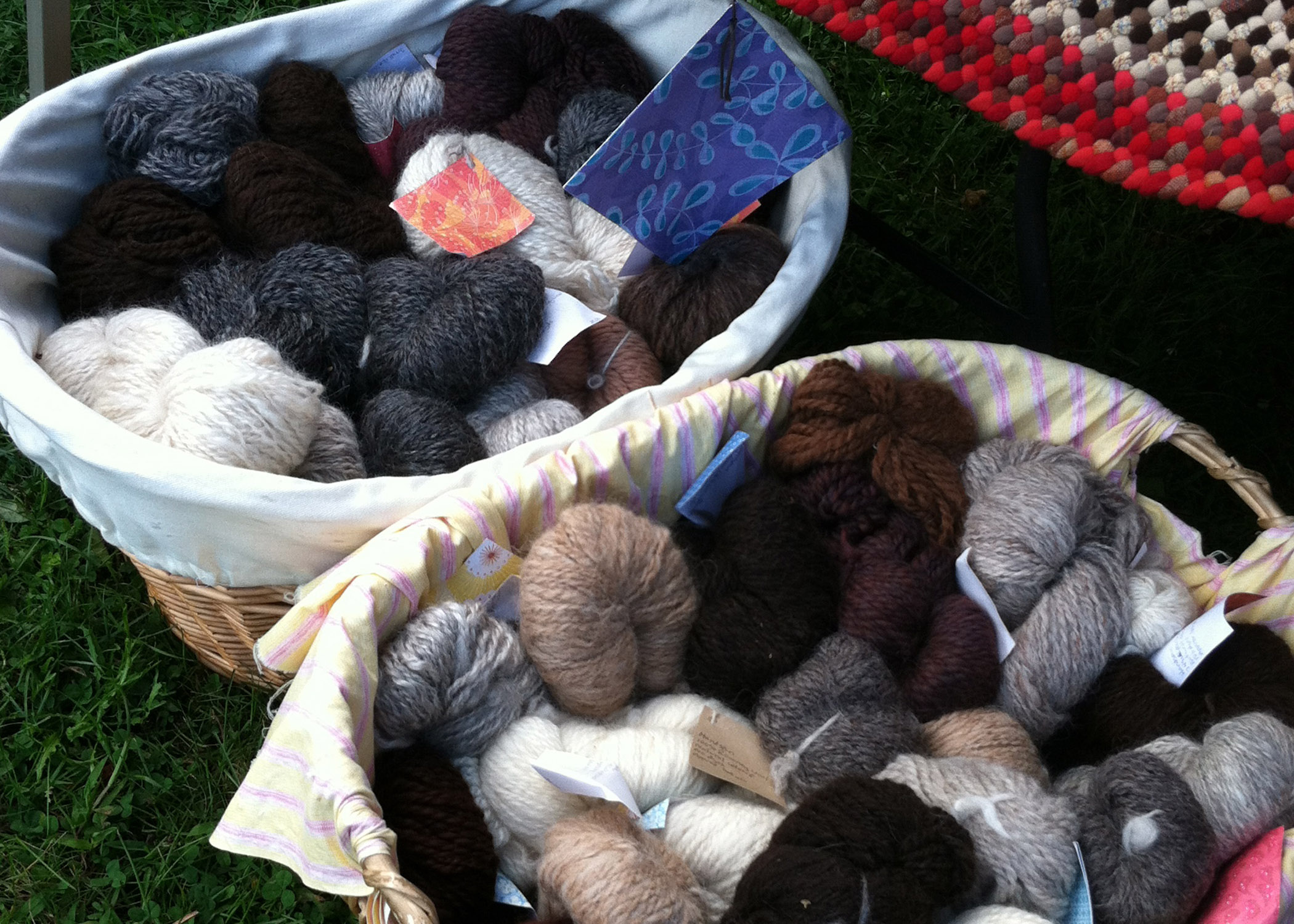 FIBER FROLIC!
Join us on one of the first Market days when you can definitely feel that Fall is in the air. Enjoy a weaving activity that you can take home, or add a few fibers to our community weaving project! Many THANKS to Sarah T-W and Ruth Smith for keeping both kids and adults amused and intrigued all season long with a great series of activities!
MUSIC
Music this week is by another new-comer to the Market, Paul Warnick from Gilford, NH. While we are at it, let's give a shout out to Ray Craigie, the Market's own Music Man, for arranging all the performers this season.
VENDOR UPDATES
First, THANKS to our Market Manager, Julie Dewdney, for finding, engaging, keeping track of, and communicating with all our vendors all season.
THISTLE'S SALSA and HACKLEBORO ORCHARDS will not be at the Market this week. They will be crazy busy over at the Deerfield Fair, so if you neeeeeeed salsa or apple cider donuts, go find them there!
INDIAN MEADOWS will not be at the Market this week (oh dear), but will be here next week, Oct. 5 (oh yay!)
HUCKINS DAIRY FARM will be our dairy vendor for this week and next. Have you tried their tasty herb or garlic spreading cheese?
CAPTAIN BOB'S LOBSTER just sent a text from out on the briney waves…he WILL be at the Market this week! FYI: If you haven't heard this tip before, it's a great idea…cook your lobster, let it cool and pick the meat, pack it in ziplock bags and pour heavy cream in the bag to cover, and freeze it. Then, some cold winter night when you neeeeed lobster chowder, you've got a heck of a good head start on dinner all set to go. Brilliant!! PS: Check to see if CB has any fresh fish. He might!
ON EDGE SHARPENING has been waiting for your clippers, trimmers, loppers, shearers, scissors, and kitchen cut-lery. Did you know that Al can sharpen serrated bread and steak knives, too? A whole winter's worth of steak and chicken cutting, and craft projects and yard clearing is coming up. He will sharpen while you wait, so what are you waiting for?
ZERO MILE FARM will be here. If you haven't checked out their website yet, take a peek. Great stories and great pictures (in addition to the great produce). http://zeromilefarmnh.com/index.html
CES PUMPKINS and the 5th graders who grew them will be here again.
THE BREAD PEDDLER and RED FOX FARM will not be here this week, but look for them next week, Oct. 5. You'll want to stock up! Remember Bob's bread freezes well, and Doug's preserves are…well…preserved! Good eating in the cold months ahead.
CANTERBURY ALEWORKS is done for the season. Look for him at his home place http://www.canterburyaleworks.com/
 FARM TO TABLE CELEBRATION DINNER
Thanks to all who bought tickets to come to our upcoming dinner, this Sat., Oct. 1. Ticket sales are now closed! We look forward to gathering at the gazebo, enjoying a fine meal and the company of our neighbors plus new friends who may join us from out of town, hearing stories from a few of our fine vendors, and participating in the auction to benefit the Loudon Food Pantry.
Let us give thanks to Chef Kieth Sarasin from the Farmers Dinner for working with the Board of CCFMA to make this possible, as well as to Grappone Automotive Group and the NH Dept. of Agriculture, Markets and Food whose generous support helped to make the thought of this dinner a reality.
THIS IS THE SECOND TO LAST OUTDOOR MARKET!
Next week, October 5th, we say goodbye for the season to our traditional space next to the Elkins Library. Look for us up the hill in the CES gym on Saturday Nov. 12 and Saturday, Dec. 10th from 10am-1pm with all the things you need to get ready for the holiday eating and gift-giving seasons. But, don't forget to come to the last outdoor market first! :~)
Special THANKS to Mindy Beltramo, our intrepid Market admin person, for keeping track of all the details, minutes, and meetings, and Silvia Styles our treasurer, for keeping track of all the $$$!
MEET THE BOARD
Many thanks to all the CCFMA Board members who have met, planned, hauled, drove, called, donated, texted and Emailed throughout the summer to bring us all the best Farmers Market we know of! Here's a list of us all in case you want to say "Hi!", and if you need to see our faces, look for us on this website under "About Us".
Mindy Beltramo, Market Administrator, Secretary
Julie Dewdney, Market Manager
Ray Craigie, Assistant Market Manager / Music Man
Silvia Styles, Treasurer
Beth Blair, Publicity
Sarah Tirrell-Wysocki, Special Events and Children's Activities
Ruth Smith, Special Events, Activities, Membership and MASCOT!

Doris Hampton, Greeting and Thank Yous
David Emerson, vendor "Old Ways Traditions"

Suzie Hardt, vendor "Grateful Garlic"
Jill McCullough, vendor "North Family Farm"
Harry Weiser, vendor "Hackleboro Orchards"
Janet King, vendor "Meadow's Pond Soaps"