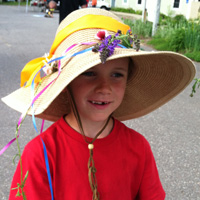 The Market is held every Wednesday, rain or shine (except for big thunderstorms) from 4-6:30. The last outdoor Market is Wed., Oct. 5th, 2016.

We are located in the center of Canterbury, NH adjacent to the Elkins Public Library, 9 Center Road. Go to our site's "Hours and Direction" tab to learn exactly how to find us.
Click here for the current EVENT CALENDAR.
2016 is the 10th Anniversary of the Market, WOW!
We can hardly believe that the Market has been a fixture in the town center, every Wednesday during the summer (except when it was thundering like crazy), for a DECADE. Amazing! We can't wait to celebrate our anniversary with YOU, because, of course, without all of you showing up each week to buy the turnips, there wouldn't be a Market. Thanks to you all, and special thanks to Grappone Automotive, for their sponsorship this year. Their generous support will help to make our 10th year the best ever! We also received a grant from the NH Dept. of Farms and Markets. Together, this support has helped us to offer extra special events and programs this season.

Don't miss a minute of the local goodness and local fun!
If you would like a weekly reminder about the upcoming season, plus updates on the special events, programs, demonstrations, and guest vendors, return to the home page and subscribe to the "Market News." You can also like us on Facebook and get the latest info about what's going on at the Market! You may not hear much from us while the snow or mud is on the ground, but you can be sure that we are thinking about YOU!
Year In Review
Please take a moment to (click here) and look at the Annual Report for 2015. It's short (really), good reading, and has lots of swell pictures. In all, it will give you a good sense of what we were up to last year, and help you to start looking forward with us to the 2016 season.